The late 90s saw an influx of great bands rising in the Northwest, such as Everything Went Black, Backside Disaster, and Champion, but one of the greatest of them all was Left With Nothing. Not only did Left With Nothing come down to play Portland quite often, but my friend Conrad and I were driving to Seattle three or four times a month to catch shows up there as well, so I was fortunate to see Left With Nothing play dozens upon dozens of times. One of the times that sticks out the most was in the middle of a pretty major snow/ice storm in the Northwest when Conrad and I decided it was still worth it to make the risky drive to Seattle, so I called in sick to work using explosive diarrhea as my excuse. We got into my beat up 1980 Datsun 510, and started to make our way up through the frozen tundra.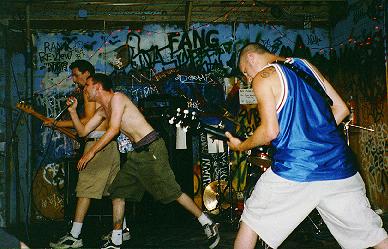 As if freeway driving wasn't scary enough on a sheet of ice, it was certainly a blast to try to parallel park on the hills of Seattle's roads as well. We caught a matinee show at the legendary Velvet Elvis with Deadlock (Spokane, WA), Left With Nothing, and the crybabies in Harbinger. From there, we drove down to the Auburn Annex to catch both Left With Nothing and Everything Went Black at a battle of the bands. A few fights ensued at the battle of the bands, but that seemed to happen all too often when you mix such varied bands and their crowds. I also picked up a copy of Seahag's (Everything Went Black's singer) newest graffiti zine, but I've managed to lose track of it over the years. That night will stick out in my mind forever, but it's just one of an incredibly large amount of memories I have attached to Left With Nothing as a band and the people that made up the band.
Left With Nothing - Demo 1997
http://www.mediafire.com/?h3dzocdjmz1
early era shirt circa '97/'98

After
their demo tape, Left With Nothing recorded three songs in 1998 for a 7" that was to be released on Division Recordings, which was a short lived label run by Ross Swanes of Last Man Standing/Stay Gold.
I can't remember the exact numbers, but the record was pressed on red and white vinyl.
I'm still not sure why anyone would play it at the listed speed of 33 1/4 rpms.
There were some issues with the printing of the covers, so the record was released with a temporary cover. I never actually got the real cover, so all I had to scan was the temporary one. From day one, the sound on the 7" was very tinny, so I did my best to lower that a bit without sacrificing the integrity of the original recording.
Left With Nothing - self titled 7"
[Division Recordings - 1998]
http://www.mediafire.com/?omradnqmgle
Around this time, Left With Nothing did a West Coast tour with Trial. Myself, Conrad, and a couple of other friends drove down to Roseburg, OR to see what was supposed to be the first show of the tour, but when we arrived, we found out that the door had been kicked in the night before and a bunch of equipment was stolen, so there would be no show. Way to go Roseburg! I bought an ice cream sandwich to comfort myself on the 3 1/2 hour drive back to Portland where we then proceeded to watch Skinemax into the wee hours of the morning at Joey's house.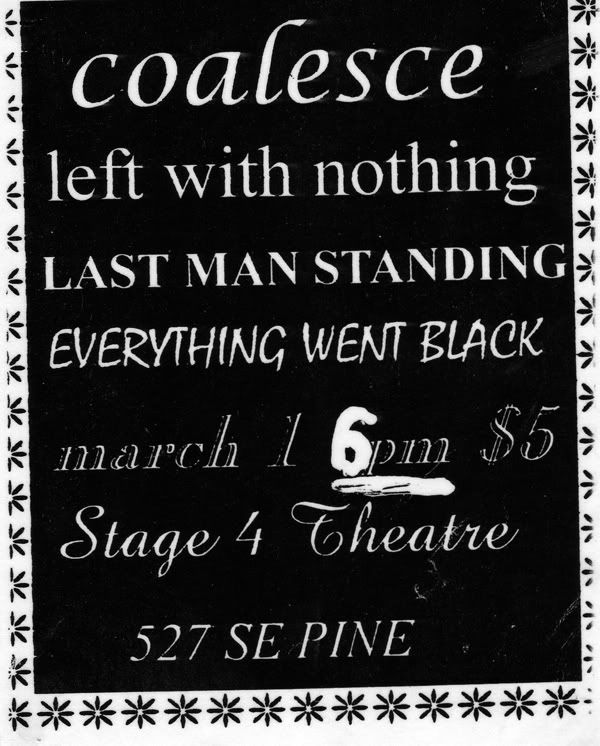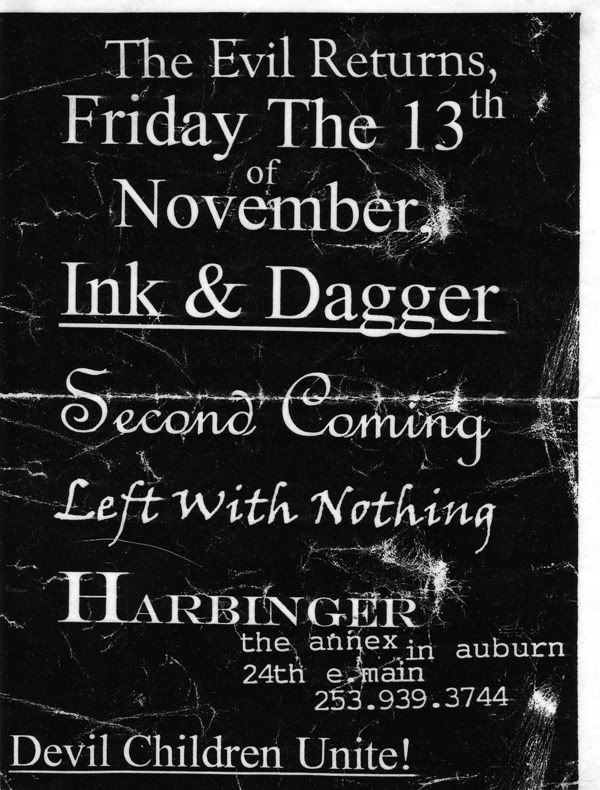 Sometime around early 1999, Left With Nothing recorded an album's worth of songs that they were going to shop to some labels. However, at the same time, another prominent Seattle band named Trial was looking for new members, and they were found in the form of Brian "the brain" Redman and Nicky Platter from LWN. At that point, which was the middle of '99, Left With Nothing went on hiatus, and the album remained unreleased aside from a low bit rate rip that circulated amongst friends. Tory (LWN singer) was kind enough to give me the master cd last time I saw him in Seattle, so for the first time in high quality, please enjoy their unreleased masterpiece! (especially Brickball, which became a theme song for destruction at NWHC shows)
Left With Nothing - Unreleased Album
[1999]
http://www.mediafire.com/?tnlzmted5dm
In February of 2000, Trial broke up while on tour in Italy. Sometime after Brian and Nicky made their way home, Left With Nothing was reformed, but this time they added a second guitar player to the mix, which thickened up the sound, and helped lead to the heavier Left With Nothing that was to come. They recorded three new songs in October of 2000, and they were released at the beginning of 2001 on the legendary Excursion Records. 800 copies came on black with with a silver foil logo on the cover. 100 copies came on blue vinyl with a silver foil logo for mailorder, and 97 copies came on blue vinyl with a blue foil logo that were sold at the release show.
The 7" recording sounded huge, and didn't sound like a crazy divergence from old material, so it was appealing to old and new kids alike.
Left With Nothing - Wishing In Reverse
[Excursion Records - 2001]
http://www.mediafire.com/?ow3ojjigjmz
2002 saw the exit of Paul on second guitar, and the addition of Timm Trust (Divinity of Truth/Owen Hart) in that position.
later era shirt circa 2002
With this lineup, they recorded the Good Things Come To To Those Who Wait EP for Excursion Records.
Although the EP features 4 songs, I've chosen to only upload 3 of them here, because the release is still available from Excursion. If you'd like, you can pick up a copy of it here:

http://www.excursionrecords.com/store.html
and I highly encourage you to do so, because the cd also contains the 3 tracks from the Wishing In Reverse 7", and because Excursion is a great label that can always use the support.


Left With Nothing - Good Things Come To Those Who Wait

[Excursion Records - 2002]
http://www.mediafire.com/?gjzdtjn3mty

After this, Left With Nothing did record two more songs, but I have a feeling that they will probably never see the light of day. They broke up for the final time in 2003 if memory serves me correctly, and with them gone, it was definitely the end of an era for NWHC. The last of the great late 90s bands was gone for good.
In late 2009, Brian Redman was killed in a vehicle accident in Tacoma. His untimely death has left a scar on many people, including myself. When Left With Nothing play their reunion show on Friday, May 28th at Rainfest, it may seem like there's a giant, empty hole on stage, but somehow I know he'll be there in spirit when old dudes are brickballing the fuck out of the Viaduct.
1 - 2 - FIFE CREW!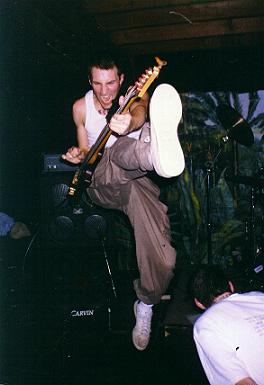 As a band, and as individual people, Left With Nothing has meant a lot to me over the years, and I'm really excited to get to see them play one more time at Rainfest.