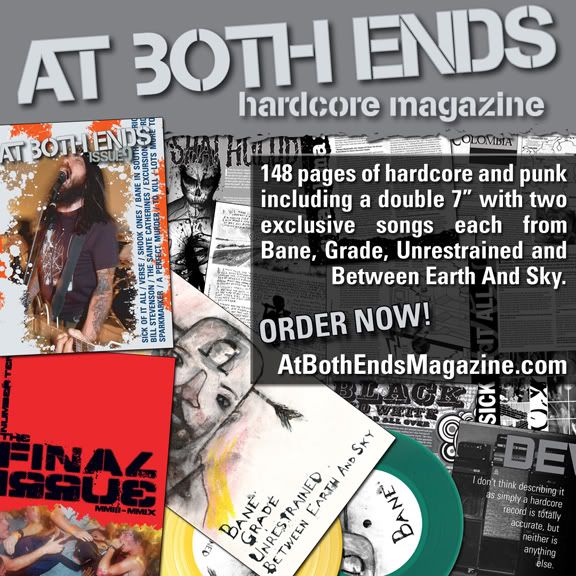 A message from At Both Ends:
Hey everyone, I just wanted to let you know that the At Both Ends magazine / 2x7" package is up for preorder. I'm really excited with how this has turned out and can't wait for people to get this in their hands. In about 3 weeks or so it will be shipping so the fastest way to get your hands on a copy is by heading over to
AtBothEndsMagazine.com
and following the instructions there. Any questions about this should be directed to Info@AtBothEndsMagazine.com.
Here's what's in the package:
One 148-page magazine/book that compiles two new issues worth of At Both Ends Magazine and two 7" records with new, exclusive songs from Bane, Grade, Unrestrained (ex-Pulling Teeth/Desperate Measures) and Between Earth And Sky (ex-Trial, Catharsis, By A Thread, Walls Of Jericho). The Bane songs are NOT found on any of the 7"s in the Dublin/Boston/LA/etc. series.
Included in the magazine are articles and interviews with Bane, Sick of it All, Verse, Shook Ones, Bill Stevenson, Sparkmarker, Anchor, Shai Hulud, Greg Bennick, Devotion, Wait In Vain, To Kill and way more. This is about as packed as a zine can get. The magazine is perfect bound with glossy pages and colour covers. Printing is similar to a book and is higher quality than pretty much any commercial magazine you will find in a store. All-in-all this is a really beautiful package.
All the other info can be found at
AtBothEndsMagazine.com
. Thanks for your support.